TRIM-LIFE® Program
Release weight with hypnotherapy in only 6 weeks!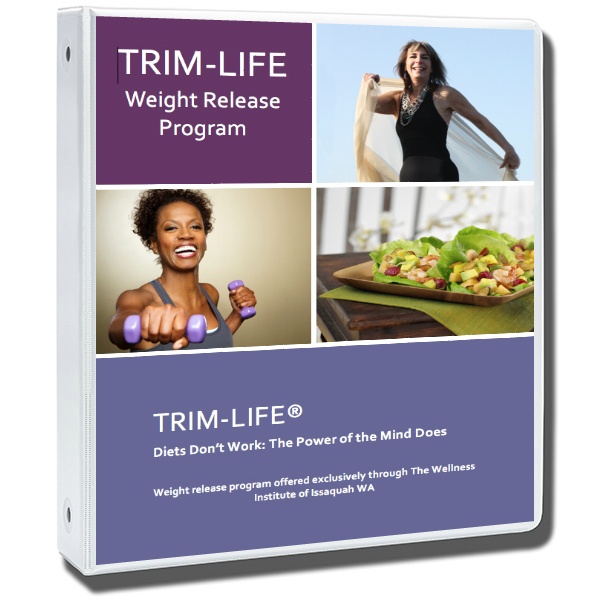 The TRIM-LIFE® Program is specifically designed for people who have tried many diet programs and have discovered that diets don't work. TRIM-LIFE® will guide you through the process of self-discovery. You will be able to identify your emotional triggers and unhealthy eating patterns. Best of all, you will have the opportunity to change them where they reside – in your subconscious mind.
Tentatively Scheduled:
Sundays - October 9th, 16th, 23rd, 30th 10 AM - 1 PM
Sundays - November 6th & 13th 10 AM - 1 PM
Where:
21905 64th Ave. West, Suite 301A Mountlake Terrace, WA 98043
Included with the group: Six 2-3 hour hypnotherapy group sessions, Official Trim-Life Workbook, Supplementary Trim-Life Book, and a flash drive with all of the audio recordings of the hypnotherapy sessions.
Facilitators:
Call Ren for more information and to Register: (206) 217-4683
TRIM-LIFE Participant Testimonials:
"After almost 30 years of struggling with weight and food addiction, Trim Life, in just a few weeks, put an almost complete halt to my struggles with food. The simple tools and methods I learned from the Trim Life program are so easy to use at any time, it is almost magical!" - Andrea
"Trim Life was, for me, the answer to my lifetime struggle with feeling as though I had no control over my eating choices; I had become resigned to gaining weight and having no selfcontrol. I now am able to listen to what my body is actually wanting rather than eating unconsciously… This group was life-changing and I am thankful every day that I made the decision to do it." -Shannon